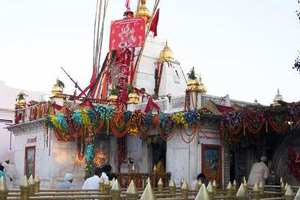 History
Baijnath is famous for its 13th century temple dedicated to Siva as Vaidyanath, 'the Lord of physicians'. Originally known as Kiragrama, the town lies on Pathankot-Chakki-Manali highway (National Highway No. 20) almost midway between Kangra and Mandi. The present name Baijnath became popular after the name of the temple. The town is located on the left bank of the river Binwa, a corrupt form of ancient Binduka, a tributary of river Beas.The Baijnath temple has been continuously under worship ever since its construction in 1204 A.D. by two local merchants named Ahuka and Manyuka. The two long inscriptions in the porch of the temple indicate that a temple of Siva existed on the spot even before the present one was constructed. The present temple is a beautiful example of the early medieval north Indian temple architecture known as Nagara style of temples. The Svayambhu form of Sivalinga is enshrined in the sanctum of the temple that has five projections on each side and is surmounted with a tall curvilinear Shikhara. The entrance to sanctum is through a vestibule that has a large square Mandapa in front with two massive balconies one each in north and south. There is a small porch in front of the mandapa hall that rests on four pillars in the front preceded by an idol of Nandi, the bull, in a small pillared shrine.
Adventure Sports
Lord Shiva is commemorated here as Vaidyanath (the Lord of Physician) and is placed in the form of 'Lingam' (phallic form of Lord Shiva). The main sanctum comprises five projections on every side and a tall curved Shikhar (spire). The history of Baijnath temple is inscribed on the stone slabs inside the complex. As per the beliefs, Ravana (King of Lanka) had worshipped Lord Shiva in this temple.According to the legend, it is believed that during the Treta Yuga, Ravana in order to have invincible powers worshiped Lord Shiva in the Kailash. In the same process, to please the almighty he offered his ten heads in the Havan Kund. Influenced by this extra ordinary deed of the Ravana, the Lord Shiva not only restored his heads but also bestowed him with powers of invincibility and immortality.
How to Reach
By Air: Nearest airport is Gaggal from Baijnath. Indian Airlines flies to Dharamsala thrice a week from Delhi.

By Rail: There is also available a toy train from Pathankot to Paprola-Baijnath which runs on narrow gauge from Pathankot to Jogidernagar.
By Road: Baijnath is very well connected by all weather roads to Delhi via Chandigarh and to Manali via Mandi.