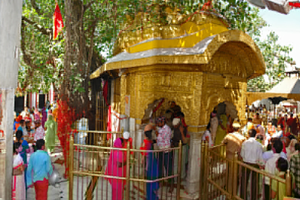 History
Chamunda Devi Temple is located at a distance of 15 km from Dharamsala in Himachal Pradesh. Dedicated to goddesses Durga or Chamunda (Hindu deity), the surroundings of the temple provide an excellent venue for medtation prayers and spiritual attainments. It is an enchanting and charming spot with fascinating view of the mountains, rivers and forests. The location of temple was used as a cremation ground by the people of 22 villages and supposed to be a place of solace, spiritual attainments. A large number of devotees travel to this place for worship and to attain spiritual peace for their ancestors. Taking dip in the Ban Ganga river is considered as more auspicious and sacred. People perform prayer to Lord Shiva with the water of Ban Ganga river. A 700 years old temple, Chanmunda Devi comprises of big complex with a 'Kund' (pond) in it. As per the rituals, the devotees coming to the temple take holy dip in the Kund. The main deity of the temple is kept under cover and is not accessible by the visitors, because of its sacred importance. There is a cave-like scoop located at the back of the temple, representing the stone lingam ( embodiment of Shiva). Apart from these attractions, there are many brightly painted images of gods and goddesses located in the vicinity of the Chamunda Devi temple.
The Legend
The legend of the temple is related with two demons Chanda and Munda of Shumbh Nishumbh, the notorious demon king. With their wicked mind, they try to harass the goddess Ambika, which turned out in the form of battle between the gods and demons. Chamunda, emerged as Chandika from an eyebrow of goddess Ambika, was assigned the task to eliminate the demons. Chandika destroyed those two demons and presented their heads in front of Ambika. Pleased with the act of Chamunda, the goddess Ambika named the city as Chamunda and since then the temple Chamunda Devi is worshipped with that grace and faith.
Other Attraction
Beside temple, there is Ayurvedic dispensary, library and a Sanskrit college situated in the temple complex. The dispensary provides medical treatment to the pilgrims and locals. The library comprises of rare stock of old manuscripts, books on astrology, Hindu philosophy, Vedas, Puranas, Upnishads, Sanskrit and History. There is book sale counter, which provide these books on reasonable rates. A Sanskrit college is also run by the temple trust and they organize free classes on Vedas and Puranas.
Accommodation
Barely 300m from the temple of Chamunda Devi, Himachal Tourism runs a neat and clean Yatri Niwas.Free accommodation is available in Temple's Sarai.