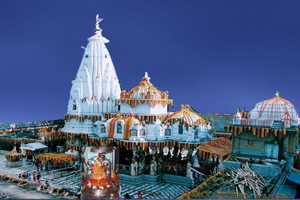 History
The Brajeshwari Devi temple, located in the old Kangra township, is said to have been built over the charred breasts of Sati. This shrine, once renown for its great wealth, has been plundered relentlessly over the ages. The first of the plunderers was Mahmud of Ghazni, who looted it in 1009. A mosque was built on the ruins and a garrison was left behind. 35 years later, the local king regained its possession. The shrine was repaired and a replica of the idol was enshrined. The temple was filled with gold, silver and diamonds only to be ransacked again in 1360 by Firoz Tughlaq. Later Emperor Akbar visited the shrine with his dewan, Todar Mal and restored it to its former grandeur. The temple was razed to the ground by an earthquake in 1905, but a new one came up the very same year, thanks to the Kangra Restoration Committee.
Adventure Sports
The Kangra Valley offers exciting opportunities for trekking, rock climbing, mountaineering and fishing. The Kangra Valley is the proverbial home of various fishes such as Mahaseer as also the Malli, Soal, Bachwa, Gid and Shingra. 3.5-km from Palampur is a predominant Buddhist town of Bir and 14-km from Bir is Billing, a beacon for "Hang-gliders" all over the world. In the month of May or June a tented colony is set up by H.P tourism to facilitate Hang-gliders.
How to Reach
By Air: Kangra airport is 7-km away and has got straight flights from Delhi.
By Rail: Nearest broad-gauge railhead at Pathankot is 86-km away and one is situated at Mukarian is 30-km. Kangra Valley express is a narrow gauge train, starting from Pathankot and continues to Bajinath.
By Road: Kangra is well connected by road with Dharamshala which is 18-km away.